Biological safety cabinet Class2 B2
This series is the all fresh type which made the air supply system and the exhaust system completely separate.
SIZE
There are 2 external wide sizes 1300 and 1800 mm. Please choose as usage.
Easy installation and relocation
The overall height is less than 2000mm on all biological safety cabinets. We do not need to take apart to install.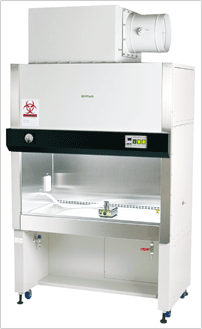 Class2 B2
■SC-1302B2 W1300xD780xH2293mm
■SC-1802B2 W1800xD780xH2293mm
Dust collection
0.3μm 99.99% or higher (PAO method passing the test)
Standard equipment
Automatic operation, FAN inverter, Auto gas burner,Suction pipe, UV lamp, and fluorescent internal/external outlet,Caution-advisory indicator and buzzer, earth leakage breaker